The last medical app you'll ever need!
Never Forget to take your meds again.

But, medication reminders are just one
of the things you can do with Dosage.
So what else can Dosage do?

Lets take a look...
Designed Specifically for the iPad's Large Screen
36,000 drug database

FDA documents, including, Medication Guides, Labels, Letters
Search for drug interactions

Track medications for you and your whole family
Every user gets a separate medicine cabinet

Set reminders for your medications

Watch the Dosage HD Video
Now Available!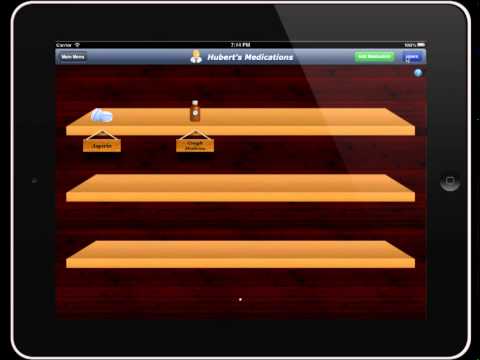 And here are just a few more things you can do with Dosage for iPhone….
Generate a PDF of all your Medications and details. Easily Save, Email or Print your PDF document.
Great for sending your medications to your doctor.
Air print supported.
Set reminders for your Medications
You'll never forget to take your medicine again.
Choose custom reminder sounds.
See which medications are due today, which one is next and which ones are coming up soon.
Turn on automatic refill reminders, to be alerted when medications are getting low.
Wherever you go, you'll be able to locate the nearest pharmacy.
Dosage uses Google maps to show you where your nearest pharmacy is.
Sign up for our Newsletter to receive news on updates and great offers.
Rest assured, we would never sell any of your information or send you any spam.
Your email address will remain completely safe and secure.
Please, let me be clear on this. I am
NOT
a doctor. Dosage is not meant to be used a your sole source of medical information. Instead use the data provided as a starting point to educate yourself about your medications and health issues.
The data included with the app is only as good as the sources and the skill of the developer.
If you need medical information Please seek the help of a qualified medical professional.
I know your too smart to use the information contained in an iPhone app as your only source of medical information. So Please give me a break and DONT DO IT!

Thanks for your time.